Christmas is almost here! 'Tis the season of festive parties, hitting the (indoor) slopes, and Christmas markets. Dubai offers a lot at Christmas time, but of course, having fun this season is always better when you're spending time with friends. So we've rounded up the best activities to do that we know yule love.
Here are a few things to put in your calendar this week…
Get that festive feeling
The Christmas market at the ​​Madinat Jumeirah is guaranteed Christmassy feels. The perfect place to meet up with friends, why don't you head to the massive snowball zone? You might even meet Santa. Grab some last minute Christmas presents, feast on the traditional food, and enjoy the nearby bars. Learn more
Oh Baby it's not that cold outside
With temperatures in Dubai hitting 25℃, why not dig out your jacket and hit the slopes? Head down to the indoor ski centre, Ski Dubai. With real snow and sub minus temperatures, you're sure to feel Jack Frost nipping at your nose. Not a Skier? There's plenty to entertain such as meeting the local penguins and enjoying a toboggan ride. Learn more
Desert Safari
If hitting the snow slopes isn't your thing why not head to the dunes. There are plenty of guides to pick you up in a dune buggy and go dune bashing and sandboarding. See the desert like you've never seen it before. Get up close and personal with camels or enjoy a buffet lunch, some much needed shaded respite. Since it's Christmas, why not really go that extra mile, grab some friends from ASKWHO and enjoy an evening desert safari? You can even camp in luxury, enjoy the stars at night and have some drinks by the fire. Learn more
Away from your family this Christmas?
Christmas doesn't always have to be a family-orientated day. Even though you may be away from your family this year, take this as an opportunity to have a different and exciting holiday. With ASKWHO, you have the ability to meet and connect with awesome people near you. Dubai has some very festive, exciting events happening this week and with places like this, enjoy them with your new friends.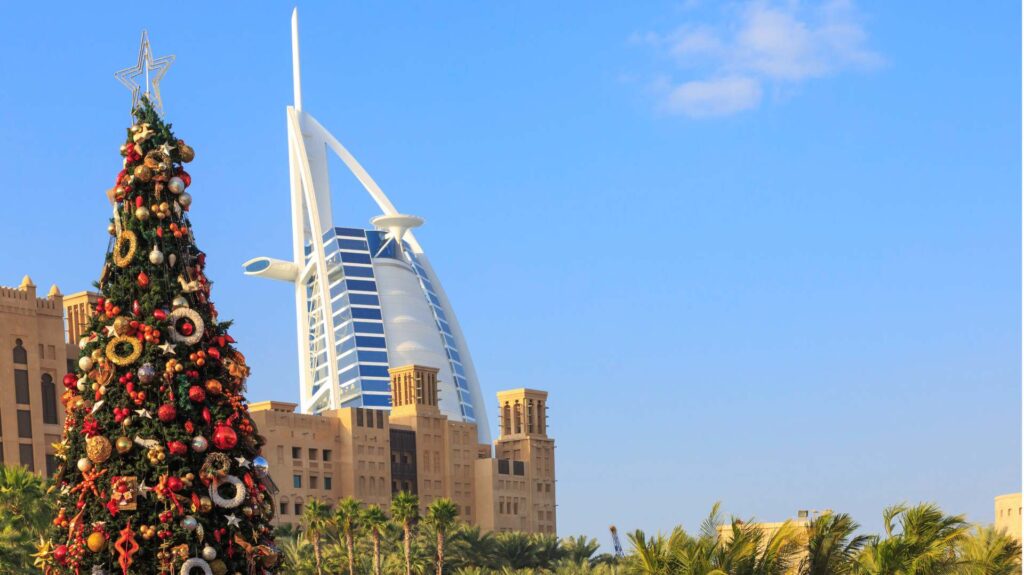 You've got the friends from ASKWHO, and you've got some great days planned, but these events are full of Christmas spirit and not to be missed…
Boozy Brunch on Christmas eve at MCGETTIGAN'S JLT
Transport yourself to the UK (mentally, of course) with the McGettigan's Irish bar. Live music, great drinks, and a festive brunch. This is the perfect place to relax and kick back on Christmas Eve. Book now
Dubai Opera – Dates: 21st to 22nd December 2021 (The Sound of Christmas) | 23rd to 5th December 2021 (The Nutcracker)
Fancy a more cultured experience? The Sound of Christmas and The Nutcracker are Christmas classics that are a perfect festive escape from the craziness of parties. Book now

UNIQUE WINTER EXPERIENCE AT ToDA, 23rd December
Enjoy the winter wonderland at the Theatre of Digital Art, the fully immersive Christmas-themed event on the 23rd December is full of magic and holiday spirit. Book now
Ready to find some friends to enjoy the festivities with? Head on over to ASKWHO, see what people from your area are doing, and join the conversation. Let's make social media social again.